Hamilton Perambulatory Unit
UPCOMING WALKS
---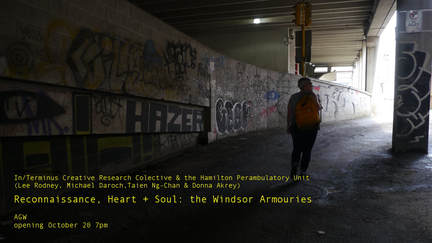 Please join IN/TERMINUS and the Hamilton Perambulatory Unit for a participatory Strata-Walk in downtown Windsor,
as part of the Triennial of Contemporary Art (
http://www.agw.ca/exhibitions/upcoming/447
)
Meet at the Art Gallery of Windsor, Friday 20 October, 12:00 pm. Free coffee!
The metaphor that downtowns have a "heart" or "soul" lends emotional weight to the dense historical and cultural layers that define city life. Our collaboration combines stratigraphic cartography with the military practice of reconnaissance, enquiring into the relationship between the historic military presence in Windsor's urban centre and current locations of its "heart and soul." Windsor's Armouries represent a late 19th/early 20th century civic structure that traditionally occupied the "heart" of the city, representing a form of fortification and security that has lost relevance. Starting from the Armouries (soon the University of Windsor's School of Creative Arts), our participatory "strata walks" map ways in which traditional forms of security and surveillance have shifted, disappeared, or morphed into new contexts.
---
ONGOING PROJECTS: WORD WALKS

"WORD WALKs" is an initiative from HPU that anyone can do. As you meander however through the city, take photos of words that catch your eye/mind. Arrange them into a poster---a slideshow---a story---by colour---by meaning….as a collage---whatever you like. Send it to us and we'll post it here…video, pdf, jpg, gif, film…whatever digital means you like. I have been making Haiku (as is my way) which is poetry arranged in syllables---first line 5 syllables, 2nd 7 syllables and the final 5 again (5, 7, 5).

"WORD WORKs" is the first public invite for work you can do solo. We will be doing more of these in time. Join in whenever you like.

Thanks
Donna Akrey, HPU
---
Thursday, April 6, 2017, 4PM - 6PM
"Walking thinking making mapping: mobile research with the HPU"
Department of Art History and Communication Studies Speaker Series
https://www.mcgill.ca/ahcs/channels/event/speaker-series-hamilton-perambulatory-unit-walking-thinking-making-mapping-mobile-research-hpu-265656
McGill UniversityArts Building W-215, 853 rue Sherbrooke Ouest, Montreal, QC, H3A 0G5, CA
The Hamilton Perambulatory Unit invites you to a performative talk about practices of engaging with urban space, using some of the methods we have devised from our research. During this talk, HPU will give a summary of our past collaborations as well as conduct a short on-the-spot research project with the audience.
--
Residency at WalkingLab
"WalkingLab is an active laboratory for research and development on walking methodologies. It aims to generate a diverse range of walking research related to civic engagement and critical public pedagogy, experiment with different media and mobile technologies, and compose an anarchive that attends to the live, temporal and performative nature of walking research."
http://walkinglab.org/residency/

The HPU spent the summer (and fall) of 2016 in residency at WalkingLab, OISE (University of Toronto)! Donna, Sarah and Taien did further research to expand our methodologies, specifically our "Strata-Walk" technique that identifies the different layers making up place. As participatory workshops, the Strata-Walks function as public pedagogy and relational art, where the emphasis is on the inter-relationships between people and environments, and the creative element does not lie in the making of an object, but in an event. The prompts can be used in groups or by a solo walker. As a method, it focuses on sharpening the mind's attention to place, as well as the body's. You can read our contributions to the WalkingLab blog, as well as those of other residents, at http://walkinglab.org/category/residencies/

--


Montréal Monochrome IV: STUDY HALL
HPU was invited to give a walk as part of the 4th edition of
Montréal Monochrome
, which was held April 21-23, 2016 at
articule
artist-run centre in Montréal.
MONTRÉAL MONOCHROME IV: STUDY HALL
offered a framework to explore how artistic modes of production can challenge conventional systems of education. It was an opportunity to actively exchange knowledges on alternative, misrepresented and marginalized ways of learning and unlearning.
The theme of this edition signaled a concern with questions about conventional forms and spaces of education, and its intersection with other practices and other modes of cultural production. It indicated a growing interest in a body of artistic production that engages with knowledge production and sites of resistance. By and large, MONTRÉAL MONOCHROME IV: STUDY HALL was an attempt to critically respond to institutionalized education that perpetuates systemic oppression. See some of our documentation at our blog:
http://hamiltonperambulatoryunit.blogspot.ca/2016/08/strata-walk-montreal-mile-end-version.html
--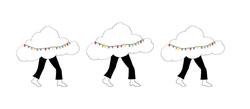 YULE WALK 2015
You've all heard of Christmas food/clothing "drives"; well this is a Yule Walk!
The Hamilton Perambulatory Unit (HPU) is walking in your neighbourhood on SUNDAY DECEMBER 2OTH AT NOON collecting donations for The Native Women's Centre:
http://www.nativewomenscentre.com/
and socks hats mitts for The Good Shepherd Men's shelter and Mary's Place women's shelter. You do the donating----we do the walking! But join us for a mid-winter walk too if you can---walk a block, 2 blocks-a mile---whatever you can----and we can walk and talk about all kinds of things!
--
---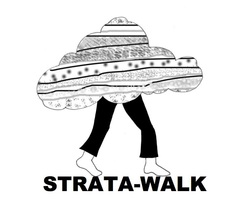 Strata-Walk (Victoria Street/Avenue Version)


November 21st, 2015 – The Hamilton Perambulatory Unit led a stratigraphic walk to map the different layers of meanings, stories, and systems that make up a place. With the help of a list of prompts, the HPU explored the urban landscape in three different cities, on three different continents! It took place in Sydney, Australia (where HPU member Sarah Truman led with members of
WalkingLab
), Windsor (with HPUers Donna Akrey and Taien Ng-Chan as part of
Interminus
'
Stories of the City
exhibition opening), and London, England (with composer David Ben Shannon). Each group collectively mapped the "strata" of that street on that date.
See our blog for photos and maps at
http://hamiltonperambulatoryunit.blogspot.ca/2016/02/strata-walk-victoria-streetavenue.html
--
---

---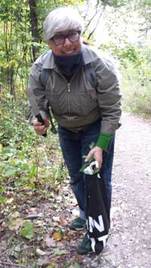 ---
Blizzardy Itinerant Reading Group - HPU doesn't fear cold!
Join the HPU for an ongoing, go-along discussion of texts related to walking, space, place and creativity. Walking incites creativity in writing, so we think it should incite creativity in reading too! Books we're reading over winter 2015: Street Haunting by Virginia Woolf, Places of Learning by Ellizabeth Ellsworth, Walking and Mapping by Karen O'Rourke.
Reading/Walking Dates:
Thursday February 12th, 2014 (walking area: Dundas City Centre)
Thursday February 26th, 2014 (walking area: Cootes Paradise)
Thursday March 12th, 2014 (walking area: Hamilton Cemetery)
Thursday March 26th 2014 (walking area: Concession Street and Mountain Brow)

--


Yule Walk 2014
You've all heard of Christmas food/clothing "drives"; well this is a Yule Walk!
The HPU is walking in your neighbourhood on Sunday December 21st, 2014, collecting donations for The Native Women's Centre:
http://www.nativewomenscentre.com/
To be involved with the Yule Walk, please contact the HPU (hamiltonperambulatoryunit [at] gmail [dot] com) and we will walk to you.
Join us if you like. And if it works just to drop off items for us---let us know and we will send East and West locations to do so.
We will have a cart, and when our cart fills we will commandeer a car and a driver!
We will begin our walk at 12pm in Kirkendall (Dundurn & Aberdeen) on Sunday the 21st. Happy Yule to you all!
--

Transportation: Contemplate Campus on FootDetails:
Join HPU Founding Member Sarah E. Truman on a sensory stroll through campus. We'll begin with a brief introduction to different approaches to walking and contemplation including Chan Buddhist (jingxing​) walking and the notion of the flâneur, and then set out on a stroll to appreciate autumn's colours.
When:
Wed., Oct. 22, 2014, 12–1:30 pm
Where:
Reading Room (meeting point)
Cost:
Free
This is part of Slow Down, a series of free workshops designed to encourage you to dial down the hectic pace of everyday life and create space for mindfulness and balance.
http://harthouse.ca/events/campus-on-foot/
--
Itinerant Reading Group
Join the HPU for an ongoing, go-along discussion of texts related to walking, space, place and creativity. Walking incites creativity in writing, so we think it should incite creativity in reading too! Books we're currently reading:
The Rings of Saturn
by W.G. Sebald,
An Attempt at Exhausting A Place in Paris
by Georges Perec,
Occasional Work and Seven Walks from the Office for Soft Architecture
by Lisa Robertson and
The Critique Handbook
by Kendall Buster and Paula Crawford.
Reading/Walking Dates:
Thursday September 18th, 2014 (walking area: James Street to Bayfront Park)
Thursday September 25th, 2014 (walking area: Kirkendall to Chedoke Golf Course)
Thursday October 9th, 2014 (walking area: York to Cannon)
Thursday October 23rd 2014 (walking area: Beasley)
--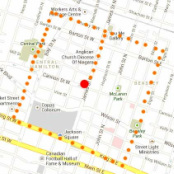 Km2
The HPU's winter project 2014 was entitled
Km2
and consisted of 3 different directed walks within a square kilometer of Hamilton's downtown (starting at the Hamilton Artists' Inc.).
Each week's event began with an artist talk by the walk leader, who showed some of her work
as well as
introduced the themes and objectives of the walk
.
1. Map Voice Film Poem (led by Taien Ng-Chan)
Map Voice Film Poem
explored the city through the microcinema of videos and stories.
2. Flânerie Collect Contemplate Write (led by Sarah E. Truman)
In week 2's
Flânerie Collect Contemplate Write
, participants strolled within the KM2 as modern day flâneurs and composed written works inspired through the acts of walking and sensory exploration of the city's core.
3. Search Gather Research Make (led by Donna Akrey)
Search Gather Research Make
focused on the visual arts and how to forage the city for ideas to realize as art works.
More...
--
---
Synesthesia Walk at Hamilton Farmers' Market

HPU members perambulated through the Hamilton Farmer's Market with a rough map in hand. Their task was to document the different "scents" they smelled within the market using words associated with another sense modality. Synesthesia is a literary device wherein the writer uses words associated with one sense modality to describe another eg. "loud yellow" (aural/sight), "burning silence" (haptic/aural), "bitter cold" (taste/haptic), "piercing fragrance" (haptic/smell). Lots of poets use synesthesia as a literary technique in their writings - notably, Baudelaire who was also one of the friendly flaneurs!

More...
Googlemap City Center Drift

The

Googlemap City Center Drift

takes as its starting point the spot where Googlemaps has placed its city marker. How does Googlemaps decide exactly where the center of a city is? Is it according to the city's dimensions? Should it be city hall, the cultural center, the financial center? Where do you think the city center should be?

More...